---
Album Info
Album Veröffentlichung:
2021
HRA-Veröffentlichung:
16.09.2021
Das Album enthält Albumcover
Entschuldigen Sie bitte!
Sehr geehrter HIGHRESAUDIO Besucher,
leider kann das Album zurzeit aufgrund von Länder- und Lizenzbeschränkungen nicht gekauft werden oder uns liegt der offizielle Veröffentlichungstermin für Ihr Land noch nicht vor. Wir aktualisieren unsere Veröffentlichungstermine ein- bis zweimal die Woche. Bitte schauen Sie ab und zu mal wieder rein.
Wir empfehlen Ihnen das Album auf Ihre Merkliste zu setzen.
Wir bedanken uns für Ihr Verständnis und Ihre Geduld.
Ihr, HIGHRESAUDIO
1

Gust Of... (JMJL Rework)

06:26

2

The MP (JMJL Rework)

06:22

3

Storyboard (JMJL Rework)

04:39

4

Wet the Day (JMJL Rework)

05:02

5

The Audio Pool (JMJL Rework)

04:55

6

Hang Over (JMJL Rework)

04:37

7

In Between Lines (JMJL Rework)

03:48

8

Last Time Here (JMJL Rework)

04:12

9

Asleep (JMJL Rework)

05:17

10

The Sailor (JMJL Rework)

04:28

11

Vermillion (JMJL Rework)

05:46

12

Glimmer (JMJL Rework)

05:53

Total Runtime

01:01:25
Info zu One Day XX
Prestigious ambient electronic project The Album Leaf will release their new album, "One Day XX". The album is a 20th-anniversary edition rework of their career-launching record, One Day I'll Be On Time. When approaching the rework, The Album Leaf creator Jimmy LaValle brought in longtime collaborator James McAlister (Taylor Swift, Sufjan Stevens, The National) and members of his live band to help re-imagine every arrangement with what he knows now as a composer and performer, celebrating the songs from a different vantage, with technical prowess and the emotional clarity that time and distance can afford.
In 2001, One Day I'll Be On Time propelled The Album Leaf from Jimmy LaValle's part-time solo project to a full-fledged live band. LaValle, who came up in the late '90s San Diego music scene playing in hardcore bands and as a founding member of instrumental rock band Tristeza, found himself at a crossroads with his commitments. With Tristeza's upward trajectory, LaValle felt the pull of a separate outlet. In 1999, he released a collection of drum machine and Rhodes piano improvisations titled An Orchestrated Rise to Fall and began opening Tristeza's shows under this exploratory alias, The Album Leaf. Tristeza was signed to Tigerstyle Records, and LaValle had also inked a deal to release his next solo album through the NYC-based indie label. He put the modest label advance towards a self-recording starter setup, building out the sound with occasional studio access from his day job at a jingle house. The music that emerged — vivid, rhythmic, soaring instrumentals guided by lines of guitar and Rhodes — not only set the path for The Album Leaf over the next two decades of acclaimed releases (for Sub Pop, City Slang, and others), it became a touchstone for the next generation's wave of melodic and meditative electro-organic music. For its 20th anniversary, Jimmy LaValle has re-recorded One Day I'll Be On Time with his longtime collaborator James McAlister and members of his live band, re-imagining every arrangement with what he knows now as a composer and performer, celebrating the songs from a different vantage, with technical prowess and the emotional clarity that time and distance can afford. The reworked album sees release in 2021 on Nettwerk Music Group.
The legacy of One Day I'll Be On Time is linked to its unlikely discovery and the moment in music that welcomed its ascent. As the story goes, a record store clerk in Iceland handed the CD to Jónsi, whose band, Sigur Rós, was searching for a supporting act for their US tour. Jónsi broadcasted the album out the windows of their pondside studio, and they decided right there that The Album Leaf was who they would ask. When the request came through, LaValle scrambled to put a live band together, and within weeks was on the road in front of the largest crowds he'd ever played for on a tour that started just days after the September 11th attacks. With DIY recording success stories still far from commonplace in the early 2000s, it was truly remarkable to see a project of such humble origins reach a sizable audience seemingly in an instant. LaValle's time with Sigur Rós expanded; they toured Europe with the band often joining him on stage, and he'd record his next three albums in their Icelandic studio. From there, The Album Leaf's touring and collaborative history intersects with like-minded projects such as Telefon Tel Aviv and Tycho, capturing a distinct boom for instrumental music which still reverberates across today's listening landscape.
LaValle re-approaches One Day I'll Be On Time with a desire to celebrate the milestone in a way that modernizes the music rather than retread through it. Initially, the project came about to create stems for spatial audio technology, but his vision evolved as he got deeper into the process, hearing these songs from his former self, recorded with the naivety and looseness of a burgeoning artist. Remembering the instinctive nature of those sessions, LaValle arrived at an experiment that spoke to artistic ingenuity and progression. "My first thought was, 'oh this song is on guitar, let's do it on the synth, or this song is on the Rhodes, let's do it on something else, but more than that, I wanted to give these songs a new sense of space and depth, to see how far we could go and wide we could get."
The transformation is evident from the onset; album opener "Gust Of" finds LaValle replacing guitar phrases with wide-screen synth tones, giving the composition a deeper, enveloping atmosphere. Fan favorite "Storyboard" presented LaValle with a unique challenge, how to re-record what was essentially an unfiltered first-take — the original left the studio sounds intact, everything the mic picked up from LaValle's exchange with the engineer to his parting footsteps. Knowing he couldn't recreate this instance, he focused instead on building a lush and lustrous world far outside the walls of a recording space. The new version is a marvel of meticulous production; warm swells of synth and soft percussion surround emotive strum patterns, all reaching a crescendo of shimmering resonance in its final minute.
"Hangover" is among the most drastic departures from 2001. Originally improvised on guitar, the song returns as a smooth-edged ambient sequence. The same wordless rumination remains while LaValle searches for something less defined in this haze; the effect is bittersweet, the feeling of the present washing up against memory banks. The stillness then breaks for "In Between Lines," its stuttering drums snap crisply in the new mix as arpeggiated keys and swirling guitar feedback dance upfront. Contrasting the textural track to its predecessor is akin to seeing something wondrous and familiar in high definition for the first time.
That sensation runs throughout; the propulsive "Vermillion," a standout in its first run and staple of The Album Leaf live show, again leaps from the set, heightened by an agile and robust full-band arrangement. LaValle's mission was to embody where he's taken "Vermillion" on stage over the years in collaboration with the musicians in his live band: David LeBleu (drums), Brad Lee (bass, trumpet), and Matt Resovich (violin). In the album context, "Vermillion" swings skyward one last time, culminating in a surge of cymbal crashes and horn howls leading into the tender outro, "Glimmer." Here LaValle flips the foundational components while staying true to its mindset. "That song was plug-and-play recorded on guitar; I was in a tuning and just played it, so I wanted to do that as well, on my piano, so I just hit record and kept it all in there, no overdubs or anything."
Jimmy LaValle is quick to point out that this exercise wasn't meant to cover up mistakes or definitively revise One Day I'll Be On Time. He wanted to see this career-launching material from a new angle, to revisit the raw takes and underscore the melodies and grooves defined by twenty years of performance. To remember the artist he was in his early 20s and recognize the one he's become. When asked about how he'd like his fans to hear it, LaValle answers, "I hope they go in with fresh ears, wanting to have a new experience." An open mind to match the intent of this forward-thinking retrospective project.
The Album Leaf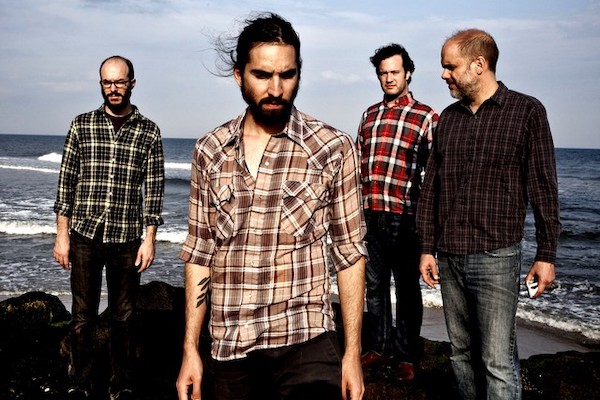 The Album Leaf
Over time, THE ALBUM LEAF (now based in Los Angeles) has grown from a side endeavor to LaValle's main focus. The project's first releases, An Orchestrated Rise To Fall (1999) and One Day I'll Be On Time (2001), intertwined field recordings, Rhodes piano, and a nuanced treatment of texture with mature songwriting and dense, evocative atmospheres. Following these records, which put THE ALBUM LEAF on the map for critics and fans worldwide, Icelandic band Sigur Rós discovered LaValle and took THE ALBUM LEAF on tour with them in the US, garnering the band wide exposure and recognition.
Following a European and a second US tour with Sigur Rós, LaValle left Tristeza to devote his full attention to THE ALBUM LEAF, and soon produced the highly acclaimed releases Seal Beach (2003, Acuarela discos) and In A Safe Place (2004, Sub Pop / City Slang). Since then, THE ALBUM LEAF's influence has continued to grow. LaValle has released two more well-received full-lengths as well as tens of other releases ranging from soundtracks to collaborations with artists such as Bright Eyes & Mark Kozelek, further establishing THE ALBUM LEAF as a household name in the world of modern rock music and beyond. THE ALBUM LEAF has toured extensively across the globe, and many of the band's songs have appeared on TV shows including Scandal, Sons of Anarchy, Suits, and more. In 2016, the band partnered with renowned label Relapse Records for the release of the group's sixth studio album and first since 2010's A Chorus Of Storytellers (Sub Pop).
Now, nearly twenty years into a career that has seen LaValle exercising his creativity across the realms of film scoring, sound collage, and rock music, via instrumental and vocal-driven compositions alike, LaValle & THE ALBUM LEAF's newly solidified lineup are poised to deliver yet another sonic triumph with 2016's Between Waves. The album was born out of a thorough reinvention of LaValle's creative process and approach: Between Waves is THE ALBUM LEAF's first full-length record to be recorded with the band's current lineup, and was written with greater emphasis on the group dynamic (the album was also entirely recorded and produced by LaValle and the band). The album's eight tracks were winnowed down from thirty, and it shows: each song is memorable and unique, all speaking in THE ALBUM LEAF's singular voice while expressing themselves through a wide variety of different sounds and emotions.
The band's thorough, unified approach is evident on nearly every aspect of Between Waves: the album displays multifaceted, meticulous sound design, a keen ear for balancing disparate influences, and the strongest senses of dynamics, rhythm, and composition THE ALBUM LEAF has displayed to date. From the moody evolution of "Glimmering Lights" to the wistful hip-hop stylings of "A New Soul" and beyond, Between Waves is THE ALBUM LEAF at its most inventive, most confident, and most impressive.


Dieses Album enthält kein Booklet