---
Album Info
Album Veröffentlichung:
2020
HRA-Veröffentlichung:
27.03.2020
Das Album enthält Albumcover
Entschuldigen Sie bitte!
Sehr geehrter HIGHRESAUDIO Besucher,
leider kann das Album zurzeit aufgrund von Länder- und Lizenzbeschränkungen nicht gekauft werden oder uns liegt der offizielle Veröffentlichungstermin für Ihr Land noch nicht vor. Wir aktualisieren unsere Veröffentlichungstermine ein- bis zweimal die Woche. Bitte schauen Sie ab und zu mal wieder rein.
Wir empfehlen Ihnen das Album auf Ihre Merkliste zu setzen.
Wir bedanken uns für Ihr Verständnis und Ihre Geduld.
Ihr, HIGHRESAUDIO
Claude Debussy (1862 - 1918):

1

Debussy: La damoiselle élue, L. 62: Prélude

03:51

Jean-Philippe Rameau (1683 - 1764):

2

Rameau:Le Rappel des oiseaux

02:40

3

Rameau: 6. Rigaudons 1, 2 & Double

01:01

4

Rameau: Musette en rondeau

03:13

5

Rameau: Tambourin

00:56

6

Rameau: La Villageoise

01:19

7

Rameau: Gigues en rondeau 1 & 2

03:42

Claude Debussy:

8

Debussy: Estampes, L. 100: 3. Jardins sous la pluie

03:57

9

Debussy: Children's Corner, L. 113: 3. Serenade for the Doll

01:58

10

Debussy: Children's Corner, L. 113: 4. The Snow Is Dancing

02:24

Jean-Philippe Rameau:

11

Rameau: Les tendres plaintes

02:36

12

Rameau: Les tourbillons

01:42

13

Rameau: L'entretien des Muses

02:58

Claude Debussy:

14

Debussy: Préludes / Book 1, L. 117: 6. Des pas sur la neige

03:52

Jean-Philippe Rameau:

15

Rameau: La joyeuse

00:57

16

Rameau: Les Cyclopes

02:52

17

Rameau. The Arts and the Hours

04:46

Claude Debussy:

18

Debussy: Préludes / Book 1, L. 117: 8. La fille aux cheveux de lin

02:23

19

Debussy: Préludes / Book 2, L. 123: 8. Ondine

04:13

20

Rameau: Cinquième concert: 2. La Cupis

04:11

Jean-Philippe Rameau:

21

Rameau: Quatrième concert: 2. L'indiscrète

01:06

22

Rameau: Quatrième concert: 3. La Rameau

02:13

23

Rameau: La Poule

02:39

24

Rameau: L'Enharmonique

03:53

25

Rameau: Menuets 1 & 2

02:43

26

Rameau: Les Sauvages

01:22

27

Rameau: L'Égyptienne

02:12

Claude Debussy:

28

Debussy: Images - Book 1, L. 110: 2. Hommage à Rameau

07:14

Total Runtime

01:18:53
Info zu Debussy – Rameau
Bei seinem dritten Projekt für Deutsche Grammophon – nach den eindrucksvollen Alben "Philip Glass Piano Works" und "Johann Sebastian Bach" – stellt Víkingur Ólafsson eine Verbindung zwischen zwei Größen der französischen Musik her: Claude Debussy und Jean-Philippe Rameau.
Der isländische Pianist Víkingur Ólafsson ist ein Meister darin, die tieferliegenden Dimensionen der Musik in seinem Spiel filigran freizulegen. Nach seinen international gefeierten Konzeptalben, auf denen er sich zuerst mit Werken von Philip Glass, dann mit Originalwerken und Transkriptionen von Johann Sebastian Bach auseinandergesetzt hat, legt er nun sein drittes Album bei Deutsche Grammophon vor, auf dem er verschiedene Klavierwerke von Jean-Philippe Rameau und Claude Debussy präsentiert. Das Album ist ab 27. März 2020 international erhältlich.
Facettenreiche Zusammenstellung verschiedener kurzer Klavierwerke
Ólafsson ist bekannt für die feinsinnige und hintergründige Zusammenstellung der Stücke auf seinen Alben und entsprechend außergewöhnlich ist auch die Auswahl der verschiedenen Werke auf der neuen Veröffentlichung "Debussy – Rameau". So finden sich darauf hauptsächlich kürzere Sätze und Kompositionen für Klavier, darunter verschiedene Werke von Debussy, etwa aus "Children's Corner" oder seinen Préludes, sowie eine Auswahl von Rameau-Stücken, vorwiegend aus dessen "Pièces de clavecin"-Sammlungen. Ein ganz besonderes Werk auf dem Album trägt den Titel "The Arts and the Hours" und wurde von Víkingur Ólafsson mit Bezug auf die letzte Oper Philippe Rameaus "Les Boréades" selbst arrangiert. Von zärtlichem Grundcharakter geprägt, gleicht das Stück einer musikalischen Meditation und Hommage an Rameau, die von zeitloser Schönheit ist.
Jean-Philippe Rameau und Claude Debussy: Faszinierende "Musiker der Zukunft"
Víkingur Ólafsson hat das Album als "Dialog zwischen zwei seiner Lieblingskomponisten" konzipiert, wie er sagt. Jean-Philippe Rameau und Claude Debussy seien für ihn in der Musik wie Brüder oder verwandte Seelen, obwohl 180 Jahre zwischen ihnen lagen. Beide waren für ihn "Revolutionäre" – "Musiker der Zukunft, die etwas in Bewegung setzen wollten", so Ólafsson. "Beide waren begnadete Klavierkomponisten, zwei fortschrittliche und sehr eigenwillige musikalische Denker, die durch Klang unglaublich plastische Bilder beschwören konnten". Auf seinem Album wollte er nun deutlich machen, wie wegweisend Rameau mit seinem Schaffen war und wie tief Debussy wiederum im französischen Barock und in Rameaus Musik verwurzelt war.
Betörende Collage
Das Ergebnis dieser engen programmatischen Verzahnung der Werke beider Komponisten auf dem Album ist faszinierend: So werden in der Gegenüberstellung der einzelnen Stücke thematische Bezüge und klangsinnliche Ähnlichkeiten zwischen Rameau und Debussy erfahrbar, die tatsächlich eben jene innere Verwandtschaft klingend erlebbar machen, von der Ólafsson spricht. Als hingebungsvoller Interpret lässt er die einzelnen Musikstücke ineinander verschmelzen und hebt mit farbenreicher Anschlagskultur und intensiver Herausarbeitung auch kleinster musikalischer Details gleichsam die Zeiten auf. Dabei wird es beinahe unwichtig, von welchem der beiden Komponisten ein Werk jeweils stammte. Vielmehr eröffnet sich eine betörende Collage an Klängen und Farben, die mit subjektiver Tiefe und melodischer Schönheit in den Bann zieht.
Víkingur Ólafsson, Klavier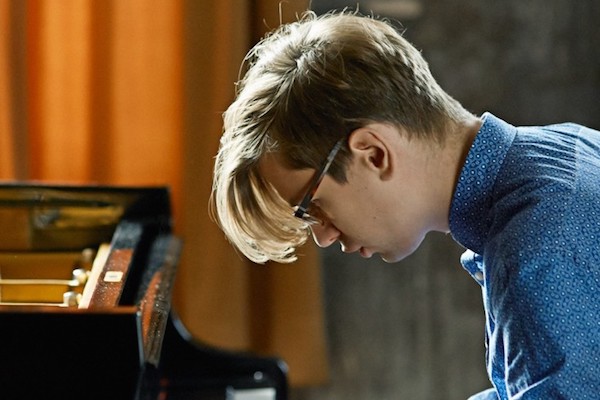 Víkingur Ólafsson
Possessing a rare combination of passionate musicality, explosive virtuosity and intellectual curiosity, Icelandic pianist Víkingur Ólafsson has won all the major prizes in his native country, including four Musician of the Year prizes at the Icelandic Music Awards as well as The Icelandic Optimism Prize.
Víkingur's 2016/17 season includes performances with NDR Elbphilhamonie Orchester and Los Angeles Philharmonic under Esa-Pekka Salonen, tour with Orkester Norden (Lawrence Foster) and concerts with Iceland Symphony Orchestra (Yan Pascal Tortelier) and MDR Sinfonieorchester (Kristjan Järvi). Since February 2016 he has taken over from Martin Fröst as Artistic Director of Vinterfest in Sweden while continuing in the same role for the award winning Reykjavík Midsummer Music, which he founded in 2012. In recital he will make his debut at Wiener Konzerthaus, Konzerthaus Berlin, Elbphilharmonie Hamburg, Louisiana Museum for Modern Art Denmark, La Folle Journée Festival as well in Leipzig and at the Istanbul Music Festival.
Víkingur signed an exclusive agreement with Deutsche Grammophon in November 2016. His debut album for DG will feature the piano works of Philip Glass and is set to be released in time for the composer's 80th birthday in January 2017. In 2015 Víkingur recorded solo works by Igor Stravinsky for the company's complete works edition of the composer and before that, he released 3 albums on his own label, Dirrindí Music. The first two were solo discs; 'Debut', (showing "exceptional perception and depth of maturity," said EPTA Journal) and 'Chopin-Bach' (prompting Piano News Magazine to say "Immense talent … you must listen to this young pianist!"). His third album was a double CD/DVD release of 'Winterreise' with bass Kristinn Sigmundsson, which won the Album of the Year award at the Icelandic Music Awards 2012.
Víkingur has premiered five piano concertos to date and worked with composers including Philip Glass, Mark Simpson and Daníel Bjarnason. He has collaborated with leading artists from diverse fields, such as Roman Signer, Lillevan and Yann Malka, and appeared at festivals such as Busoni and Transart (Bolzano), MITO SettembreMusica (Milano) and Nordic Cool (Washington DC). When it comes to his relationships with other musicians, Víkingur has worked with Sayaka Shoji, István Várdai, Martin Fröst, Pekka Kuusisto and Björk.
Away from the concert stage, Víkingur is the driving force behind numerous innovative musical projects. Most recently the classical music television series, Útúrdúr (Out-of-tune), produced for the Icelandic National Broadcasting Service in 2013-14, was broadcast to unanimous critical and public acclaim.
Víkingur grew up in Iceland where he studied with Erla Stefánsdóttir and Peter Máté. He holds Bachelor's and Master's degrees from The Juilliard School, where he studied with Jerome Lowenthal and Robert McDonald.


Dieses Album enthält kein Booklet