---
Album Info
Album Veröffentlichung:
2019
HRA-Veröffentlichung:
04.10.2019
Das Album enthält Albumcover Booklet (PDF)
Entschuldigen Sie bitte!
Sehr geehrter HIGHRESAUDIO Besucher,
leider kann das Album zurzeit aufgrund von Länder- und Lizenzbeschränkungen nicht gekauft werden oder uns liegt der offizielle Veröffentlichungstermin für Ihr Land noch nicht vor. Wir aktualisieren unsere Veröffentlichungstermine ein- bis zweimal die Woche. Bitte schauen Sie ab und zu mal wieder rein.
Wir empfehlen Ihnen das Album auf Ihre Merkliste zu setzen.
Wir bedanken uns für Ihr Verständnis und Ihre Geduld.
Ihr, HIGHRESAUDIO
Domenico Scarlatti (1685 - 1757):

1

Sonata in E Major, K. 206

09:00

2

Sonata in E Major, K. 531

04:10

3

Sonata in A Major, K. 404

06:45

4

Sonata in A Major, K. 405

02:48

5

Sonata in F-Sharp Minor, K. 447

03:26

6

Sonata in F-Sharp Minor, K. 25

03:11

7

Sonata in A Major, K. 343

04:29

8

Sonata in A Major, K. 113

04:27

9

Sonata in D Major, K. 258

05:14

10

Sonata in D Major, K. 214

04:07

11

Sonata in A Major, K. 211

06:43

12

Sonata in A Major, K. 212

03:59

13

Sonata in A Minor, K. 109

08:26

14

Sonata in F Major, K. 6

02:59

15

Sonata in A Major, K. 268

05:03

16

Sonata in D Major, K. 443

04:31

17

Sonata in D Major, K. 45

02:58

18

Sonata in B Minor, K. 27

03:02

19

Sonata in B Major, K. 244

04:01

20

Sonata in G Major, K. 105

05:38

21

Sonata in G Major, K. 260

05:49

22

Sonata in D Major, K. 491

05:28

23

Sonata in D Major, K. 414

04:23

24

Sonata in D Major, K. 534

05:07

25

Sonata in D Major, K. 535

03:27

26

Sonata in D Minor, K. 32

02:43

27

Sonata in G Major, K. 431

00:56

28

Sonata in G Major, K. 125

02:14

29

Sonata in C Major, K. 308

05:02

30

Sonata in C Major, K. 461

03:49

31

Sonata in G Minor, K. 196

03:05

32

Sonata in G Major, K. 477

03:45

33

Sonata in C Minor, K. 115

07:58

34

Sonata in C Minor, K. 526

04:17

35

Sonata in F Minor, K. 462

05:47

36

Sonata in F Major, K. 438

03:58

37

Sonata in F Major, K. 106

03:23

38

Sonata in F Major, K. 107

04:32

39

Sonata in F Minor, K. 69

04:25

40

Sonata in F Major, K. 468

05:55

41

Sonata in F Major, K. 469

02:52

42

Sonata in C Minor, K. 302

06:02

43

Sonata in C Major, K. 242

04:25

44

Sonata in G Major, K. 521

05:00

45

Sonata in G Major, K. 14

02:53

46

Sonata in E-Flat Major, K. 474

05:23

47

Sonata in E-Flat Major, K. 253

03:13

48

Sonata in B-Flat Major, K. 172

05:10

49

Sonata in B-Flat Major, K. 545

03:11

50

Sonata in E-Flat Major, K. 192

03:54

51

Sonata in E-Flat Major, K. 193

04:16

52

Sonata in C-Sharp Minor, K. 247

07:38

Total Runtime

03:54:57
Info zu Scarlatti - 52 Sonatas
Lucas Debargue erweckt die Cembalo Sonaten von Domenico Scarlatti zu neuem Leben und präsentiert Werke abseits der gängigen Klavierliteratur.
Der Pariser Pianist hat die schroffen Gipfel der Klavierkunst mit Beethoven, Liszt, Ravel schon erklommen. Er hat sich schon regelrechter romantischer Gewitter wie Franz Schuberts 14. Klaviersonate in a-moll oder Ravels Gaspard de la Nuit mit seinem furiosen Finale angenommen. Auf seinem neuen Album widmet sich Lucas Debargue nun komplett Domenico Scarlatti. Bereits auf seinem hochgelobten Debutalbum spielte er vier Sonaten des Italieners ein.
"Debargues Scarlatti erinnert an große Vorbilder…differenzierte Anschlagskultur und Feeling, wie sie einst Vladimir Horowitz diesen Miniaturen angedeihen ließ und dem Klavierwerk Scarlattis neuen Klang verlieh […] Debargue berührt Ausdrucksgrenzen zwischen todtraurig und klangberauscht: Das kann man überpointiert finden, packend klingt es allemal. Da ist er dann auch, der sanfte Glenn Gould-Touch." – Der Spiegel
Strahlend hell ist die Aufnahme geworden, die Debargue in nur fünf Tagen in Berlin einspielte. Aufgenommen wurde in der Jesus-Christus-Kirche an der Freien Universität in Dahlem, wo auch Karajan einst einspielte. Debargue spricht von "perfekten Bedingungen".
"Man hört bei Scarlatti die Einflüsse Südspaniens, Andalusiens, aber auch den Barock", sagt Debargue, "und oft auch noch etwas Verrücktes, diesen Willen zum Ausprobieren, was Tasteninstrumente überhaupt sagen können. Die Balance dieser Musik fasziniert mich". Um Scarlatti in die Moderne zurückzuholen, nahm Debargue dort auf einem Bösendorfer 280 auf. Er spielt alles ohne Pedal, benutzt das Instrument quasi gegen den Strich, und findet einen perlenden, sonnenhellen Klang. So hört man den Formenreichtum Scarlattis wieder neu. Ein insistierende Prim in der Sonate K14 klingt dann auch mal erstaunlich nach Beethoven. Debargue wollte den Italienischen Meister so der Alten Musik entreißen. Es gebe zwar fantastische Aufnahmen, sagt er, aber die seien kaum noch hörbar für das moderne Ohr. "Ich höre mehr Cembalo als Scarlatti, das Instrument steht immer im Vordergrund", erklärt er. "Struktur und Form der oft hoch komplexen und klugen Sonaten nimmt man selten wahr."
Das ändert sich nun. Dazu hat der Pariser Pianist einen Querschnitt durch Scarlattis Werk ausgesucht. Debargue öffnet dem Zuhörer wieder einmal die Tür zu neuen Klangerlebnissen und präsentiert Werke abseits der normalen "Bühnenreißern". Von der noch tief dem Barock verhafteten K6 in F-Dur, einer Sonatine, deren linke Hand gleichsam einen Generalbass formuliert reicht das Repertoire bis hin zur K526, einer äußerst farbenreichen Sonate, die in trickreich ineinander verwobenen Legato-Passagen schon den romantischen Klang vorwegnimmt.
Lucas Debargue, Klavier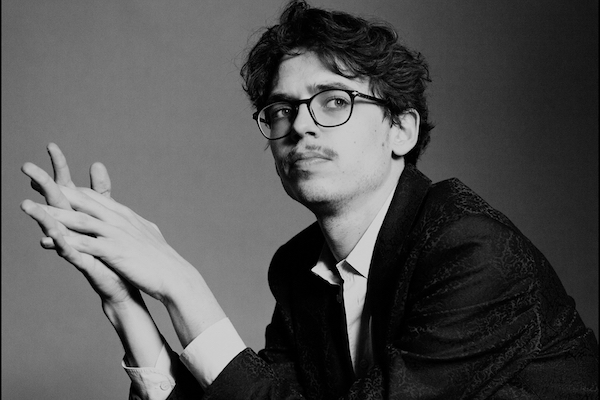 Lucas Debargue
In 2015 the French pianist Lucas Debargue became the most talked-about artist of the 15th International Tchaikovsky Competition.
Despite being placed 4th, his muscular and intellectual playing, combined with an intensely poetic and lyrical gift for phrasing, earned him the coveted Moscow Music Critics' Award as "the pianist whose incredible gift, artistic vision and creative freedom have impressed the critics as well as the audience". He was the only musician across all disciplines to do so. Soon after the competition Debargue was signed by Sony Classical, and recorded a live recital for his debut release with music by Ravel, Liszt, Chopin and Scarlatti in his native city of Paris.
Debargue was born in 1990 in a non-musical family. In 1999 he settled in Compiègne, about 90km north of Paris and began his initial piano studies at the local music school at the age of 11.
At 15 Debargue ceased piano studies having found no musical mentor to help him share his passion with others and having become frustrated at playing solely for himself. He began to work, successfully for his Baccalaureate at a local college and joined a rock band. At 17 he relocated to the capital to study for a degree in Arts and Literature at Paris Diderot University and, remarkably, ceased playing the piano altogether for three years.
In 2010 he was asked to play at the Fête de la Musique festival in Compiègne, and this marked his return to the keyboard. Shortly after he was put in touch with his current mentor and guide, the celebrated Russian professor Rena Shereshevskaya, who is based at both the Rueil-Malmaison Conservatory and the École Normale de Musique de Paris 'Alfred Cortot'. Seeing in Debargue a future as a great interpreter, Professor Shereshevskaya admitted him into her class at the Cortot School to prepare him for grand international competitions. It was at the age of 20 when Debargue started formal piano training.
Only four years later he entered the Tchaikovsky Competition in 2015, and the world instantly took note of a startling and original new talent. "There hasn't been a foreign pianist who has caused such a stir since Glenn Gould's arrival in Moscow, or Van Cliburn's victory at the Tchaikovsky Competition," said The Huffington Post.
A performer of fierce integrity and dazzling communicative power, Debargue draws inspiration for his playing from many disciplines, including literature, painting, cinema and jazz. The core piano repertoire is central to his career, but he is also keen to present works by lesser-known composers such as Nikolai Medtner, Samuel Maykapar and Nikolai Roslavets.


Booklet für Scarlatti - 52 Sonatas