---
Album Info
Album Veröffentlichung:
2022
HRA-Veröffentlichung:
22.09.2022
Das Album enthält Albumcover
1

Bongo Man

04:45

2

Narration

08:52

3

Narration (Continued)

03:55

4

Mabrat (Passin Thru)

03:24

5

Poem I

02:42

6

Four Hundred Years

04:28

7

Poem II

00:59

8

Song

01:57

9

Lumba

07:00

10

Way Back Home

04:39

11

Ethiopian Serenade

04:13

12

Oh Carolina

03:33

13

So Long

04:49

14

Grounation

15:06

15

Grounation (Continued)

15:07

Total Runtime

01:25:29
Info zu Grounation
Das essentielle Album des Nyahbinghi Drumming ist jetzt erstmalig als Doppel-Album als neugemasterte HiRes Version erhältlich! 1973 trafen Count Ossies Gruppe The African Drums, die bereits mit der Original von "Oh Carolina" Geschichte geschrieben hatte, auf die legendäre vom Jazz inspirierte Gruppe des Saxophonisten Cedric 'Im' Brooks, um als neues Projekt mit dem Namen The Mystic Revealtion Of Rastafari den ersten Longplayer der Rastafaribewegung einzuspielen. Die Reggae Koryphäe David Katz bezeichnet "Grounation" als "The mother of all nyahbinghi albums"!
"The wild jazz jams held at Count Ossie's Rastafari encampment in th east Kingston hills gave rise to the ska genre in the late '50s and early '60s. Ossie's drum troupe was featured on various 45s throughout the ska era, notably giving Oh Carolina its dramatic cadences, and things stepped up to a higher plane when the drummers merged with the Mystics, the jazz group led by visionary saxophonist Cedric 'Im' Brooks. "Grounation" was the expanded group's ground-breaking 1973 debut, and its mix of jazz, reggae and poetic oration, all driven by livid nyahbinghi beats, given a sonic portrait of the Rastafari movement of the day, its adherents striving to make sense of their fractured identities in post-independent Jamaica. Though there's occasional surface noise on this current reissue, the material still sounds incredibly fresh and raw, remaining essential listening" (David Katz for MOJO)
The Mystic Revelation of Rastafari
Digitally remastered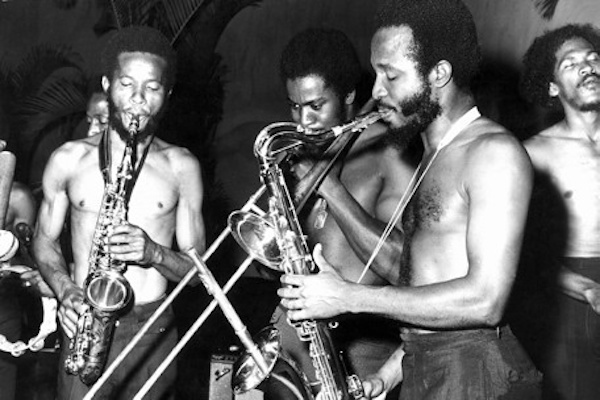 Count Ossie
As a young boy Ossie grew up in a rasta community where he learned techniques of vocal chanting and hand drumming under the tutelage of Brother Job. In the early 1950s he set up a Rasta community in Rockfort on the east side of Kingston, where many of Kingston's musicians learned about the Rastafari movement. In the late 1950s, he (with other percussionists) formed the Count Ossie Group. His first sound recordings were made after meeting Prince Buster. One of those was a song by the Folkes Brothers, "Oh Carolina", regarded by some music historians as the first-ever ska record. During this period Count Ossie also recorded for Harry Mudie.
He formed a group called "Mystic Revelation Of Rastafari" and during his life issued two albums that he recorded with them. His masterpiece was the Grounation three-LP set (1973), which includes songs such as "Oh Carolina", "So Long", and "Grounation" (the latter title with over 30 minutes running time).
Two years later Tales Of Mozambique (Dynamic 1975) was issued, continuing the legacy of the first album. Count Ossie died in 1976, aged 50, with conflicting reports of the cause, including a car accident and being trampled by a frightened crowd following a show at Kingston's National Arena.


Dieses Album enthält kein Booklet