---
Album Info
Album Veröffentlichung:
2021
HRA-Veröffentlichung:
23.07.2021
Label: ABC Classic
Genre: Classical
Subgenre: Chamber Music
Interpret: Slava Grigoryan & Sharon Grigoryan
Komponist: Mark Summer (b. 1958), Sergio Assad (b. 1952), Mário João Laginha (b. 1960), Wolfgang Muthspiel (b. 1965), Maurice Ravel (1875 - 1937), Edward Grigoryan (b. 1955), Ástor Piazzolla (1921 - 1992), William Lovelady (b. 1945), Jaime M. Zenamon (b. 1953)
Das Album enthält Albumcover
Mark Summer (b. 1958):

1

Summer: Julie-O

04:43

Sergio Assad (b. 1952):

2

Assad: Jobiniana No. 4

07:01

Mário João Laginha (b. 1960):

3

Laginha: Tanto Espaço

03:56

Wolfgang Muthspiel (b. 1965):

4

Muthspiel: Dark Silk

04:35

Maurice Ravel (1875 - 1937):

5

Ravel: Pièce en forme de Habanera, M. 8

02:58

Edward Grigoryan (b. 1955):

6

Grigoryan: Ngeringa

05:27

Ástor Piazzolla (1921 - 1992):

7

Piazzolla: Histoire du tango: 2. Café 1930

07:19

William Lovelady (b. 1945):

8

Lovelady: The Brightest Stars Shine Half as Long

03:07

Jaime M. Zenamon (b. 1953): Reflexões No. 6:

9

Zenamon: Reflexões No. 6: I. Fluido

02:58

10

Zenamon: Reflexões No. 6: II. Doloroso

04:48

11

Zenamon: Reflexões No. 6: III. Vivissimo

02:51

Ástor Piazzolla:

12

Piazzolla: Ave Maria

05:42

Total Runtime

55:25
Info zu Our Place
Australia's favourite musical couple, Slava and Sharon Grigoryan, invite you to their place and to hear them play their favourite pieces of music for you.
In their very first album together as a duo, Slava and Sharon play the music that means the most to them – from the first serious piece that Sharon ever played as a student and pieces composed by Slava's guitar heroes, to pieces written specifically for them by friends and family.
"We have now been playing together for five years," Slava and Sharon write, "And have always known that we wanted to record together. So by the time we scheduled the recording sessions for this album, we had already been talking about it for a few years, and every piece here has been thought about, and tried and played, put on the shelf and come back to.
"Every piece on this album holds a special place in our hearts for different reasons: Ravel's Habanera was one of the first pieces that Sharon played as a student that opened up her musical imagination; composers Bill Lovelady and Wolfgang Muthspiel are dear friends and long-term collaborators of Slava's, Astor Piazzolla's Café 1930 is the first piece we played together as a duo, and Edward Grigoryan's Ngeringa was composed as a birthday present for Sharon. That's why this album is so special to us."
Regarded as a 'wizard' of the guitar, Slava Grigoryan has forged a prolific reputation as a classical guitar virtuoso. Born in Kazakhstan, he immigrated with his family to Australia in 1981 and began studying the guitar with his violinist father Edward at the age of 6. By the time he was 17 he was signed to the Sony Classical Label. His relationship with Sony Classical, ABC Classic in Australia, ECM in Germany and his own label Which Way Music has led to the release of over 30 solo and collaborative albums – four of which have won ARIA Awards – spanning a vast range of musical genres.
Sharon Grigoryan, cello
Slava Grigoryan, guitar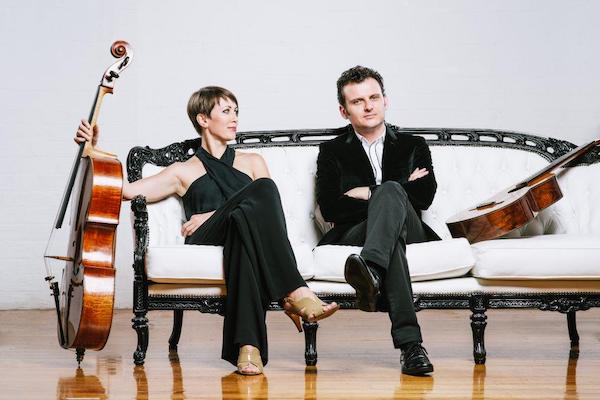 Sharon Grigoryan
Born in Melbourne, Sharon studied at the University of Melbourne and the Australian National Academy of Music (ANAM) under David Berlin, Philip Green, and Howard Penny. From 2008-2012 Sharon held a position with the Melbourne Symphony Orchestra (MSO) and was a regular participant in their Chamber Players series. In 2009 she formed the Hopkins String Quartet and was, in the same year, accepted into the Australian Chamber Orchestra's Emerging Artists program. She has since toured extensively with the ACO.
In 2011 Sharon was a recipient of the MSO Friends' Travel Scholarship and spent a year in Berlin studying with Professor Wolfgang Emanuel Schmidt and Nicolas Alsteadt. Since then she has performed with the Mahler Chamber Orchestra and Spira Mirabilis Chamber Orchestra, as well as being a core member of the Melbourne Chamber Orchestra.
Sharon has performed as a guest with the Australia Ensemble, and the Australian World Orchestra under conductors Sir Simon Rattle and Ricardo Muti. In 2015 she formed a duo with guitarist and husband Slava Grigoryan, and is the current Artistic Director of the Barossa, Baroque and Beyond music festival, now in its 5th year.
Sharon also has a passion for teaching. Apart from teaching the cello privately, she has tutored ensembles such as the Melbourne Youth Orchestra, AYO's National Music Camp orchestras, and been a guest chamber music tutor at ANAM.
After seven wonderful years, Sharon Grigoryan will step down as ASQ Cellist at the end of 2020 and Michael Dahlenburg will join the quartet.
Slava Grigoryan
Regarded as a 'wizard' of the guitar, Slava has forged a prolific reputation as a classical guitar virtuoso. Grigoryan was born in Kazakhstan and immigrated with his family to Australia in 1981. He began studying the guitar with his violinist father Edward at the age of 6. By the time he was 17 he was signed to the Sony Classical Label. His relationship with Sony Classical, ABC Classics in Australia, and now his own label Which Way Music has led to the release of over 20 solo and collaborative albums spanning a vast range of musical genres.
At the age of 18, his first tour was with guitar legends Paco Pena and Leo Kottke. Since then he has travelled the world as a soloist in recitals and with orchestras in Europe, Asia and North America. Appearances with orchestras have included the London Philharmonic, the Royal Scottish National Orchestra, the Halle, the Dresden Radio Orchestra, the Israel Symphony and the Hong Kong Sinfonietta. He has performed at dozens of national and international arts festivals and guitar festivals. He has won ARIA awards for Best Classical Album and performs regularly as a soloist with all of Australia's symphony orchestras. He has had two critically acclaimed tours with the Australian Chamber Orchestra, and internationally his performances have taken him to some of the world's leading venues. From numerous appearances in London's Wigmore Hall and Royal Festival Hall, to New York's Carnegie Hall, Vienna's Konzerthaus, and Tokyo's Sumida Triphony Hall, Slava Grigoryan has developed a talent for bewitching his audiences.
Collaborations have played a huge part in Grigoryan's career, most notably the guitar duo with Leonard Grigoryan. Together they have released three duo albums and appeared on many others. Their touring has seen them perform throughout Europe, America, Asia, Russia and the Middle East. Other collaborations in the classical sphere have been with ensembles including the Goldner, Flinders and Australian String Quartets in Australia, and the Endellion, Skampa and Chilingirian Quartets in Europe. He regularly performs with the Southern Cross Soloists and has worked extensively with pianist Michael Kieran Harvey and baritone José Carbó, and – amongst many others – was a founding member of Saffire, the Australian guitar quartet. He has also collaborated with numerous composers and premiered many new works, significantly with composers William Lovelady, Nigel Westlake and Shaun Rigney.
Outside the classical world Grigoryan has had long term collaborations with MGT – a guitar trio featuring jazz icons Ralph Towner and Wolfgang Muthspiel – and a duo with Austrian electric bassist Al Slavik. With Leonard Grigoryan and with Joseph and James Tawadros he has formed Band of Brothers, performing a fusion of contemporary jazz, classical and Middle-Eastern music.
Grigoryan's appointment as the Artistic Director of the Adelaide International Guitar Festival has been a thrilling addition to an already full musical life.


Dieses Album enthält kein Booklet