---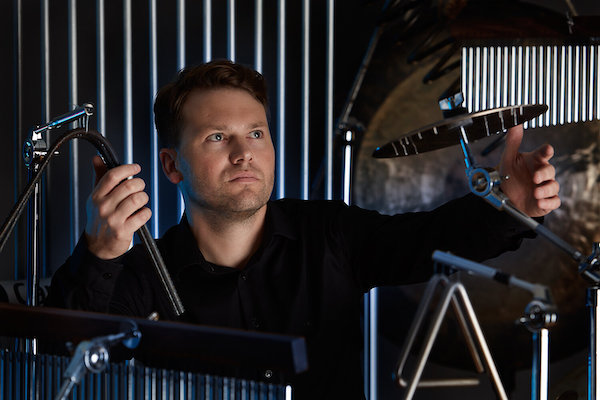 Joby Burgess
One of Britain's most diverse percussionists, Joby Burgess is best known for his virtuosic performances, daring collaborations, extensive education work and regularly appears throughout Europe, the USA and beyond.
Joby commits much of his time to his own projects, most notably with the audio visual collective Powerplant – a collaboration with sound designer, Matthew Fairclough and visual artist, Kathy Hinde - where the worlds of minimalism and electronica collide. Powerplant has released albums on Signum and Nonclassical featuring music by Steve Reich, Gabriel Prokofiev, Graham Fitkin and Max de Wardener.
Dedicated to the development of the percussion repertoire, often in combination with electronics, Joby spends much of his time commissioning and recording new music. Recent highlights have included extensive tours with Peter Gabriel's New Blood Orchestra, PUNKIT– an adventurous participatory project for massed percussion ensemble by Stephen Deazley and 'Pioneers of Percussion' a solo recital programme featuring new work by Nicol Lizée, Linda Buckley and Rebecca Dale.
Joby regularly performs, records and collaborates with artists including Christophe Beck, Stewart Copeland, Murray Gold, Will Gregory (Goldfrapp), John Kenny, Akram Khan, Sarah Leonard, Joanna MacGregor, Dario Marianelli, Peter Maxwell Davies, Max Richter, Sasha, Nitin Sawhney, Keith Tippett, Pete Tong, Adrian Utley (Portishead), Nana Vasconcelos and Eric Whitacre along with many of the world's leading chamber ensembles.
Joby can often be heard on major film and TV scores, notably leading the percussion on Black Panther, The Darkest Hour, Paddington 2, Trolls, The Last Kingdom and Taboo, he was featured on the score to Alex Garland's Ex Machina. Joby enjoys close relationships with a variety of instrument makers and manufactures, his extensive collection of instruments are featured exclusively on Spitfire Audio's sample library Percussion Redux, recorded at the world famous Air Lyndhurst Hall, London.
Each year Joby gives master-classes and leads numerous creative workshops for focusing on rhythm, composition and improvisation, often using West African music as the stimulus. Joby studied at the Guildhall School of Music & Drama, London.
Sam Wilson
is a UK-based percussionist and composer, who studied at the Guildhall School of Music and Drama, graduating with the Lord Mayor's Prize. Committed to new music, he has premiered works by Rolf Hind, Larry Goves, Joseph Phibbs, Andrew Hamilton and Peter Wiegold. In his solo performances Sam combines the presentation of newly commissioned work with his own arrangements, repertoire exploring the inherent theatre of percussion, and projects featuring electronic and visual elements.
Recent engagements include Claude Vivier's Cinq Chansons pour Percussion at the Roundhouse, a Faster Than Sound project working with Hot Chip's Alexis Taylor, Mara Carlyle and Max De Wardener, performing in both the concert and staged performances of Aldeburgh Music's Grimes On The Beach (winner of the What's On Stage 'Event of the Year' award and BBC Music Magazine's award for 'Best Opera Recording'), and Medea at the National Theatre in music by Goldfrapp. In 2013 at the Royal Opera House Sam was onstage percussionist in the world premiere of Julian Philips' How The Whale Became. He regularly collaborates with cellist Oliver Coates, including numerous appearances at the Southbank's Harmonic Series, and recently collaborated with him in the UK Premiere of Andrew Hamilton's seminal music for people who like art.
Sam specialises in interdisciplinary collaboration and his compositions have been performed at the Royal Festival Hall and Snape Maltings. He recently composed music for May 08 (at the Bridewell Theatre), a devised play directed by Richard Wilson and Dinah Stabb, which he also played and acted.
In 2015 Sam joined the percussion quartet 4-Mality, who perform at numerous music festivals and commission new works. He regularly collaborates with composer and electro-artist Anna Meredith, playing in her live shows and creating material with her. He shared writing credits on her album Varmints, which won "Scottish Album of the Year" and receieved 5-Star reviews by the Guardian and the Financial Times. He is also a member of the hip-hop comedy act Abandoman, called by the Sunday Times "Best Musical Show" at the 2014 Edinburgh Fringe. Their recent engagements include Glastonbury, the Adelaide Fringe Festival and support for Ed Sheeran's major UK tour.
Calum Huggan
From early on in his career Calum showed a real passion for performance, winning his first BBC Solo Broadcast at the young age of 18. A finalist in many prestigious competitions, Calum was mentored and nurtured by International Marimbists Jasmin Kolberg and Eric Sammut. Calum has performed solo, chamber and concerto debuts within the major concert houses across the United Kingdom, Europe and the United Arab Emirates. Calum is a Yamaha Artist & Acoustic Percussion Signature Artist.
As well as being a virtuosic performer, Calum's passion lies in cross-arts collaborations. He has worked alongside some of the most recognised and talented creatives in the arts, co-creating, recording and performing in spectacular spaces across the globe.
Calum is an active and sought after percussion tutor and workshop leader throughout the UK. Teaching at several conservatoires across the UK, Calum regularly delivers marimba master classes, percussion seminars and repertoire classes.
Rob Farrer
trained in orchestral percussion at the Guildhall School of Music & Drama. Upon leaving, Rob joined the pop band The Divine Comedy with whom he played for 10 years.
In his varied career he has been fortunate enough to work with artists and organisations such as The White Stripes, Sir Paul McCartney, Peter Gabriel, Tom Jones, Katie Melua, Robbie Williams, Nitin Sawhney, The BBC Symphony Orchestra, The Orchestra of The Royal Opera House and Joby Talbot. He has played on film scores including The Hitchhiker's Guide to the Galaxy, Alien Autopsy, Sixty-Six and Prometheus, and has recorded music for television programmes including The League of Gentlemen, Wild West, Psychoville and Dr Who. Rob has played on every major TV music show and performed at all of the largest European rock festivals such as Glastonbury, Reading, V-Festival, Roskilde, Montreux Jazz Festival, Rock-am-Ring and Benicassim.
Recent projects include world premieres for Graham Fitkin and Jonathan Dove and performances of Steve Reich's Drumming with The Colin Currie Group.
Rob is a member of Christian Forshaw's Sanctuary Ensemble with whom he has just recorded their latest album, Songs of Solace, for Integra Records.
Outside of performing, Rob is the Percussion Co-ordinator at Junior Guildhall and runs workshops in percussion and performing.