---
Album Info
Album Veröffentlichung:
2014
HRA-Veröffentlichung:
11.10.2017
Das Album enthält Albumcover Booklet (PDF)
Entschuldigen Sie bitte!
Sehr geehrter HIGHRESAUDIO Besucher,
leider kann das Album zurzeit aufgrund von Länder- und Lizenzbeschränkungen nicht gekauft werden oder uns liegt der offizielle Veröffentlichungstermin für Ihr Land noch nicht vor. Wir aktualisieren unsere Veröffentlichungstermine ein- bis zweimal die Woche. Bitte schauen Sie ab und zu mal wieder rein.
Wir empfehlen Ihnen das Album auf Ihre Merkliste zu setzen.
Wir bedanken uns für Ihr Verständnis und Ihre Geduld.
Ihr, HIGHRESAUDIO
1

Inspiration

09:27

2

Reminiscense

09:02

3

Exuberance

06:39

4

Affection

07:27

5

Pep

06:20

6

Imagination

06:55

7

Reconciliation

07:23

8

Tranquility

05:20

9

Encouragement

05:02

10

Radiance

05:51

Total Runtime

01:09:26
Info zu A Touch of Radiance
Pianist and composer Yelena Eckemoff defines radiance as a state of happiness or confidence when everything around you is shining. On her latest CD, A Touch of Radiance, she explores that idea from ten different perspectives, drawing rich inspiration from memories, emotions, and dreams, and the inner world where all three intersect.
In addition to the ten musical expressions of radiance, Eckemoff also examines the concept in other media; she painted the vivid sunset on the album cover and wrote ten short poems to expand on each piece, all of which are included in the album s liner notes. A Touch of Radiance also expands her horizons instrumentally, marking the first time that the classically-trained pianist has recorded with more than a trio. She s assembled a stunning yes, even radiant band for the occasion, featuring saxophonist Mark Turner, vibraphonist Joe Locke, bassist George Mraz, and drummer Billy Hart.
These four gifted artists respond gorgeously to Eckemoff s music, wringing bold colors and deep feeling from pieces that are both airy and intricate. The musicians helped me to paint my musical picture, Eckemoff says. What made the project a success is that in addition to improvising brilliantly, all the musicians were extremely respectful to my written structures, tunes and melodic lines. The combination of written and improvised music as well as totally loose group improvisations has been my carefully and passionately chosen musical language. With each new recording I am more comfortable with this language.
Aside from the opening track, Inspiration, which sets the tone for the album through its air of dream-like mystery, the pieces on A Touch of Radiance and their accompanying poems move chronologically through Eckemoff s life. The playful opening melody of Reminiscence, articulated by Eckemoff and Locke, introduces a piece that harkens back to the composer s childhood in the Soviet Union, offering a glimpse of an imaginative child surrounded by a loving family. When her father enters at the poem s end saying, I met a rabbit on my way home / And look what a tasty treat he gave me for my little girl! it s as if the children s book and the world outside have merged, a memory that feels like a fantasy or a fantasy that feels like a memory.
The aptly-titled Exuberance, which portrays a six-year-old Eckemoff eagerly if clumsily helping her mother and grandmother cook a family feast, and the tender Affection, about a beloved puppy, continue these warm memories of youth in a cold country. She skips forward to her own life as a parent with the frantic Pep, dizzy with the never-ending work of a wife, mother, artist, and teacher. The shadowy mood of Reconciliation provides a bittersweet image of domestic life, with arguments and hurt feelings overcome by a loving reunion, and Encouragement celebrates the support to be found in family.
Eckemoff s music has often drawn inspiration from the natural world, and she returns to that theme on Imagination, a portrait of a snowy winter scene dreamed up on what turns out to be a sweltering summer day. Tranquility captures the pianist s ability to tune out the harsh noise of the city to focus on the sounds of nature, while the title track watches a moth drawn to light in the same way that Eckemoff found herself pulled in by the broader notion of radiance.
Very rarely am I surprised like I am with Yelena, enthuses Billy Hart. Somebody that comes out of nowhere with this much maturity and experience and musicality. You don t expect somebody that you don t know to challenge you in such an enjoyable way. In a very euphoric way it was a very satisfying project for me. -- From press release by Shaun Brady.
Yelena Eckemoff, piano
Mark Turner, tenor saxophone
Joe Locke, vibraphone
George Mraz, bass
Billy Hart, drums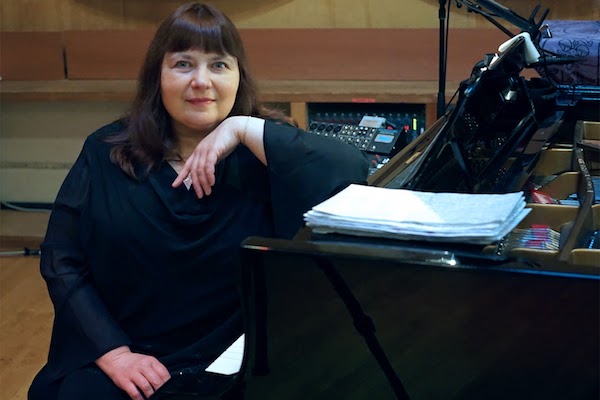 Yelena Eckemoff
was born in Moscow, Russia, in the Soviet Union. Her parents noticed that she had musical talent when she started to play piano by ear at the age of four. Yelena's mother, Olga, a professional pianist, became her first piano teacher. At the age of seven Yelena was accepted into an elite Gnessins School for musically gifted children where, in addition to common school subjects, she received extensive training in piano, music theory, music literature, solfeggio, harmony, analysis of musical forms, conducting, composing, and other musical subjects. She was fortunate to study piano with Anna Pavlovna Kantor, who also trained one of today's most celebrated pianists, Evgeny Kissin. Later Yelena studied piano with Galina Nikolaevna Egiazarova at the Moscow State Conservatory. Upon graduation with Master's Degree in piano performance and pedagogy, she worked as a piano teacher in one of Moscow music schools, gave solo concerts, attended courses at the Moscow Jazz Studio, played in an experimental jazz-rock band, and composed a lot of instrumental and vocal music.
In 1991, with her husband, Yelena emigrated to the United States. While assimilating and surviving in a new country and raising children, she had to put her musical career on hold. During these years Yelena experimented with synthesizer and MIDI sequencer in her little home studio, then founded an ensemble of local musicians. She self-released albums in various genres including classical, vocal, folk, Christian, and her original music.
She recorded her first jazz album, COLD SUN, in 2009, accompanied by drummer Peter Erskine and Danish bassist Mads Vinding, which proved to be the major turning point in her jazz career. Cold Sun was names one of 15 best jazz CD releases of 2010 by Warren Allen (AAJ) and drew comparisons to the stark music of ECM Records.
From that point on, Eckemoff churned out compelling and focused jazz albums at an astounding pace; she recorded and released four more piano trio records in less than four years engaging such notable jazz musicians as Mads Vinding, Morten Lund, Mats Eilertsen, Marilyn Mazur, Darek Olezskiewicz, Peter Erskine, and Arild Andersen. FORGET-ME-NOT (L & H, 2012) was in the best 10 on CMJ charts for over 10 weeks. "Themes of nature, sounds of isolation, stark settings, and blurred lines between compositional and improvisational elements are visible on all of Eckemoff's trio dates, but no two records sound exactly the same." (John Kelman)
For GLASS SONG (L&H, 2013), she reenlisted Erskine and brought bassist Arild Andersen into the fold for the first time. Surprisingly, neither veteran had ever recorded together, but you would never know it. "Eckemoff, Andersen and Erskine create music that's focused, yet free floating, and open, yet never nebulous. Pure melody is of less importance than the greater narrative in each number, but the music still sings out with melodic grace. While Manfred Eicher and his storied label have nothing to do with this record, Glass Song has that "ECM sound," if ever it existed. Mystery, blooming musical thoughts and vaguely haunting notions are at the heart of this captivating album." (Dan Bilawsky)
Yelena Eckemoff 's Lions (L&H 2015), with bassist Arild Andersen and drummer Billy Hart is a long but comprehensive look at animals in the wild with human touches, a classical-jazz soundtrack that goes beyond the superficial, intermission grabs for attention and seeks out the feelings beneath the eerily accurate movements.
"EVERBLUE (L&H, 2015) has Arild Andersen, saxophonist Tore Brunborg and drummer Jon Christensen. This Norwegian all-star contingent fits beautifully into Eckemoff's aesthetic: Andersen with his looming pronouncements like final summations; Christensen with his suggestive rhythmic ambiguity; Brunborg with his clear, clean sound and respect for space. Glass Song, Lions and Everblue contain some of the most powerful, poetic work of Andersen's long career." (Thomas Conrad)
"LEAVING EVERYTHING BEHIND (L&H, 2016) is united around themes of departure and loss. Yelena wrote a poem for each piece and made the cover art. She is accompanied by violinist Mark Feldman, whose background is in classical and country music. Several of compositions date from the 1980s; a time when she was just beginning her exploration into jazz. These pieces seem highly refined, replete with airy, vague harmonies that refer equally to Bill Evans and Claude Debussy." (Mark Sullivan)
BLOOMING TALL PHLOX (L&H, 2017) is intended to evoke different scents that Yelena Eckemoff recalls from her childhood in Russia. These powerful smells trigger a myriad of magical memories, each of which somehow, is transformed into a moveable feast of sounds – melodies set free by Yelena Eckemoff on a gloriously tuned piano and harmonized by Verneri Pohjola, a Finnish horn player, together with Panu Savolainen on vibraphone, Antti Lötjönen on bass and the percussionist colorist Olavi Louhivuori.
Although jazz is associated with improvisation, Eckemoff often writes her tunes out. Her music has been described as classical chamber music in the context of improvisational jazz. She developed a highly acclaimed jazz style that incorporates her classical technique and influences very effectively. With each new record Eckemoff's distinctive, recognizable approach to melody becomes even more prominent. Yelena Eckemoff uses life and nature's bouquets as her muse to create the body of work that blends post-modern abstraction, classical thought, and jazz language into a seamless whole. True to her classical-jazz impressionism, Eckemoff sees humanity in nature.
A band leader, producer and co-founder of L & H Production record label, Yelena also gives piano lessons. She had served as a church musician and choir director for over 22 years, until she got too busy with her recording and performing schedule. Yelena believes in hard work, God's guidance, humanism, and eternal love.


Booklet für A Touch of Radiance