---
Album Info
Album Veröffentlichung:
2015
HRA-Veröffentlichung:
26.10.2017
Das Album enthält Albumcover Booklet (PDF)
Entschuldigen Sie bitte!
Sehr geehrter HIGHRESAUDIO Besucher,
leider kann das Album zurzeit aufgrund von Länder- und Lizenzbeschränkungen nicht gekauft werden oder uns liegt der offizielle Veröffentlichungstermin für Ihr Land noch nicht vor. Wir aktualisieren unsere Veröffentlichungstermine ein- bis zweimal die Woche. Bitte schauen Sie ab und zu mal wieder rein.
Wir empfehlen Ihnen das Album auf Ihre Merkliste zu setzen.
Wir bedanken uns für Ihr Verständnis und Ihre Geduld.
Ihr, HIGHRESAUDIO
1

Lions

09:26

2

Migrating Birds

09:00

3

Pursuit

04:36

4

Night in Savanna

08:34

5

Stars Bathing in Shallow Waters

07:31

6

Young at Play

04:20

7

Sphinx

06:48

8

Simple Pleasures

07:31

9

Lions Blues

06:06

10

Instinct

08:20

11

Surviving the Famine

07:30

12

Joining the Pride

06:26

13

Ode to Innocence

02:44

14

Ode to Strength

04:56

Total Runtime

01:33:48
Info zu Lions
For Yelena Eckemoff, finding the nexus where training and an early successful career in the classical sphere meet with the Moscow-born, North Carolina-resident pianist/composer's more recent predilection for jazz and improvised music has been a wholly natural pursuit. A meeting place where the whole is invariably greater than the sum of its parts, with Lions - her eighth jazz album in nine years - Eckemoff once again raises the bar on a very personal approach to bringing detailed composition and freewheeling extemporization together with the idea of music as real narrative.
Unlike many musicians, who title compositions out of necessity - more afterthought than intimately tied to the music - Eckemoff has long striven to make albums with underlying concepts - a premise particularly evident with her last recording, 2014's A Touch of Radiance, and now, to even greater effect, with Lions. Lions' release may follow A Touch of Radiance, but chronologically it was recorded first - more than a year before, in fact - making it Eckemoff's first to use what she calls "three-arts-crossing," where, in addition to the music, she contributes both poetry and cover art.
"The 14-part Lions poem, where I wrote about a woman in a lioness' body (words corresponding to the double-disc's 14 musical tracks and printed in the liner notes) was so personal that I felt like taking another step toward an even more personal approach by using my own painting for the CD cover," Eckemoff explains.
"For some musicians, music is just music," she continues. "The names of the songs are expendable and what the music expresses is irrelevant - as long as it sounds good. For me, the music has always been nothing less than captivating storytelling and a way to express my feelings and thoughts, as well as the world around me."
Still, the genesis of Lions is an unusual tale worth telling. Eckemoff had already collaborated, on 2013's Glass Song, with Arild Andersen - the virtuosic double bassist who, along with four other Scandinavians brought to international attention by ECM Records' Manfred Eicher in the early 1970s, created a paradigm shift in how jazz was viewed by incorporating a completely different cultural touchstone into a music thenlargely dominated by the American tradition.
"After the recording session for Glass Song, Arild told me that he was waiting for a special bass that was being made for him in France, with a carved lion's head on its neck," Eckemoff recalls. "It stirred my imagination, and I came up with an idea to assemble a trio of 'lions' for my next recording project with Arild, which we had decided to do in New York the following year. As I was trying to think who would be another 'lion' to join Arild and I in a recording studio, the choice was obvious to both of us: there could be no better match than Billy Hart! I then approached Billy, asking him to join Arild and I for the trio project, and he was very much interested. Billy and Arild have never worked together before, and both were quite excited at the prospect.
"Inspired with the idea of putting together a suite of songs not only performed by 'lions,' but also about lions," Eckemoff continues, "I began writing music which would describe the many aspects of lions' lives, starting with a general idea ('Lions'); going into details about their habitat ('Night in Savanna,' 'Stars Bathing in Shallow Waters'); and their routines ('Pursuit,' 'Young at Play,' 'Simple Pleasures,' 'Instinct,' 'Surviving the Famine,' 'Joining the Pride'). As my imagination grew wilder, I started to fantasize about escaping the human world and turning into a lioness myself. My fantasies were so vivid at times that even now I have my doubts that the story of getting transported to the African savanna on the wings of migrating birds, finding myself in a lioness' body, and then living in a lion's pride was just a figment of my imagination...or was it for real? I hope whosoever listens to the music and reads the story might find out for him or herself."
It's hard not to be swept away by Eckemoff's vision of African vistas and wildlife from a lioness' viewpoint. Eckemoff's music finds compelling middle ground between through composition and the loose interpretative interaction that any trio bolstered by Andersen and Hart is bound to possess. The three musicians traverse considerable territory, from ethereal atmospherics both sun-charred and moonlit indigo and more grounded explorations of groove, to cinematic expanses that evoke imagery reflective of Eckemoff's experience - the soundtrack to the most personal of imaginary films. And whether it's Eckemoff's impeccable virtuosity and penchant for the impressionistic, Andersen's lithe muscularity and irresistibly singing tone, or Hart's ability to suggest time with the broadest use of color and texture, Lions is an album that continues to surprise long after it's been spun for the first time.
While there's something to be said for the chemistry of a longstanding group, there's also no doubt that a rare kind of energy can imbue first encounters, especially where, rather than writing relatively spare sketches that are grist for more open-ended improvisation, Eckemoff provides her partners with detailed compositions filled with challenging yet somehow accessible structural constructs.
"To help prepare for the recording, I always supply my musicians with comprehensive lead sheets and audio demos of the songs to be recorded," Eckemoff explains. "After Billy listened to my piano demos, he asked how much of what he heard I was going to play at the recording. My sincere answer was that I would play pretty much everything he heard. Sensing that he was very amused, I felt apologetic, saying that due to my classical music background I like to write a lot, leaving only relatively small portions for improvisation. To my surprise, he was quite excited about my written-through approach, saying that besides that he liked the music very much - that my way of music-making in jazz is prophetic, and that this is a new direction about which he is very fascinated."
Of course, how musicians prepare for a session is as different as their own approaches to playing. "Arild prefers to study my music way in advance, because he finds it quite structural, with some eccentric chord changes - way too complicated to be played on the spot," says Eckemoff.But Andersen - who was teamed with another veteran drummer, Peter Erskine, on Glass Song - reveals just how differently two musicians can approach the music.
"Peter wanted to have all the music that Yelena had written down for the piano, and was more or less reading the piano parts during the recording," the bassist recalls. "Billy hardly looked at it. Yelena's music is pretty challenging in terms of chord progressions and bar structures, so I had to watch out all the time and keep concentrating. She is more like playing with a classical pianist.
She writes down most of what she plays in the session beforehand, whereas I prefer to have as little as possible written down and leave everything up to improvisation. It's a strange combination, but there was still a lot of space to play in Yelena's music, and with a loose rhythm section it worked well."
And work well it does. Eckemoff describes the music (and how her trio mates interpret it) best: "In 'Migrating Birds,' Billy's brushes sound like fluttering of the birds' wings, and we all soar up in the sky, filled with a nostalgic desire to reach distant shores in our attempt to escape our human world. In 'Pursuit,' we - now lions - desperately try to catch our prey, infatuated with the hunting spree. In 'Night in Savanna,' Billy imitates the creepy sounds of African night life, including passing of rattlesnakes. In 'Young at Play,' we're associated with energetic and clumsy cubs that play hard but suddenly fall asleep in the middle of the game. The odd meters of 'Sphinx' serves as a laboratory for the philosophic exploration of life's dramatic choices.
"'Instinct,' whose melody of love is probably one of the most heartfelt tunes I've ever created, pictures a shameless mating ground for innocent lions, not in by the confines of human society," Eckemoff continues. 'Simple Pleasures' returns us to the basic things that all living creatures enjoy; to get into the carefree mood of total satisfaction, we lazily start the song off with an on-the-spot free intro. Some random roars and relaxing stretches of 'Lions Blues' feel as cozy as any blues; despite the canonic blues formula, spiked chords shift down and up in half-steps. In 'Surviving the Famine' we are fatigued from hunger, and Billy's marching pattern expresses the emptiness of our stomachs while Arild's frantic phrases are like desperate attempts to find food. There is a triumphant spirit of winning the battle in 'Joining the Pride,' while the joyous 'Ode to Strength' sums up the courage and nobility of lions' lives and return us virtual lions to our human world - at least, for the most part," Eckemoff concludes, chuckling.
"A week after the Lions recording session, we had the privilege of performing seven pieces from the album at New York City's Birdland Jazz Club," enthuses Eckemoff. "It was the first time Arild and I ever took the stage at this famed club, and it was quite thrilling to present this music in a live show and receive a warm and enthusiastic reception."
With the release of Lions, Yelena Eckemoff continues to make significant strides in her goal of gaining acceptance in the jazz world on her own terms. And for those as enthralled by the pure magic of Lions as Eckemoff, Andersen and Hart clearly were, the good news is there's more to come.
Exciting news for the pianist, but also for fans and critics alike who have become increasingly captivated by Yelena Eckemoff's most personal, narrative approach to chamber-informed music-making. With an imagination as free as that of the majestic animals to whom she aspires, Lions is yet another leap forward in the career of an artist whose name may still be relatively new to the jazz world, but whose reputation is gaining ground with each successive release. By John Kelman
Yelena Eckemoff, piano
Arid Andersen, bass
Billy Hart, drums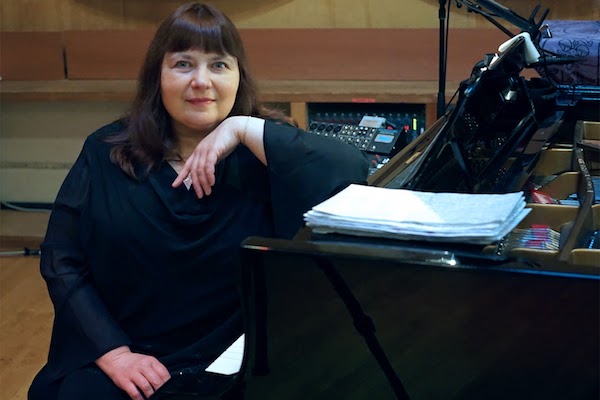 Yelena Eckemoff
was born in Moscow, Russia, in the Soviet Union. Her parents noticed that she had musical talent when she started to play piano by ear at the age of four. Yelena's mother, Olga, a professional pianist, became her first piano teacher. At the age of seven Yelena was accepted into an elite Gnessins School for musically gifted children where, in addition to common school subjects, she received extensive training in piano, music theory, music literature, solfeggio, harmony, analysis of musical forms, conducting, composing, and other musical subjects. She was fortunate to study piano with Anna Pavlovna Kantor, who also trained one of today's most celebrated pianists, Evgeny Kissin. Later Yelena studied piano with Galina Nikolaevna Egiazarova at the Moscow State Conservatory. Upon graduation with Master's Degree in piano performance and pedagogy, she worked as a piano teacher in one of Moscow music schools, gave solo concerts, attended courses at the Moscow Jazz Studio, played in an experimental jazz-rock band, and composed a lot of instrumental and vocal music.
In 1991, with her husband, Yelena emigrated to the United States. While assimilating and surviving in a new country and raising children, she had to put her musical career on hold. During these years Yelena experimented with synthesizer and MIDI sequencer in her little home studio, then founded an ensemble of local musicians. She self-released albums in various genres including classical, vocal, folk, Christian, and her original music.
She recorded her first jazz album, COLD SUN, in 2009, accompanied by drummer Peter Erskine and Danish bassist Mads Vinding, which proved to be the major turning point in her jazz career. Cold Sun was names one of 15 best jazz CD releases of 2010 by Warren Allen (AAJ) and drew comparisons to the stark music of ECM Records.
From that point on, Eckemoff churned out compelling and focused jazz albums at an astounding pace; she recorded and released four more piano trio records in less than four years engaging such notable jazz musicians as Mads Vinding, Morten Lund, Mats Eilertsen, Marilyn Mazur, Darek Olezskiewicz, Peter Erskine, and Arild Andersen. FORGET-ME-NOT (L & H, 2012) was in the best 10 on CMJ charts for over 10 weeks. "Themes of nature, sounds of isolation, stark settings, and blurred lines between compositional and improvisational elements are visible on all of Eckemoff's trio dates, but no two records sound exactly the same." (John Kelman)
For GLASS SONG (L&H, 2013), she reenlisted Erskine and brought bassist Arild Andersen into the fold for the first time. Surprisingly, neither veteran had ever recorded together, but you would never know it. "Eckemoff, Andersen and Erskine create music that's focused, yet free floating, and open, yet never nebulous. Pure melody is of less importance than the greater narrative in each number, but the music still sings out with melodic grace. While Manfred Eicher and his storied label have nothing to do with this record, Glass Song has that "ECM sound," if ever it existed. Mystery, blooming musical thoughts and vaguely haunting notions are at the heart of this captivating album." (Dan Bilawsky)
Yelena Eckemoff 's Lions (L&H 2015), with bassist Arild Andersen and drummer Billy Hart is a long but comprehensive look at animals in the wild with human touches, a classical-jazz soundtrack that goes beyond the superficial, intermission grabs for attention and seeks out the feelings beneath the eerily accurate movements.
"EVERBLUE (L&H, 2015) has Arild Andersen, saxophonist Tore Brunborg and drummer Jon Christensen. This Norwegian all-star contingent fits beautifully into Eckemoff's aesthetic: Andersen with his looming pronouncements like final summations; Christensen with his suggestive rhythmic ambiguity; Brunborg with his clear, clean sound and respect for space. Glass Song, Lions and Everblue contain some of the most powerful, poetic work of Andersen's long career." (Thomas Conrad)
"LEAVING EVERYTHING BEHIND (L&H, 2016) is united around themes of departure and loss. Yelena wrote a poem for each piece and made the cover art. She is accompanied by violinist Mark Feldman, whose background is in classical and country music. Several of compositions date from the 1980s; a time when she was just beginning her exploration into jazz. These pieces seem highly refined, replete with airy, vague harmonies that refer equally to Bill Evans and Claude Debussy." (Mark Sullivan)
BLOOMING TALL PHLOX (L&H, 2017) is intended to evoke different scents that Yelena Eckemoff recalls from her childhood in Russia. These powerful smells trigger a myriad of magical memories, each of which somehow, is transformed into a moveable feast of sounds – melodies set free by Yelena Eckemoff on a gloriously tuned piano and harmonized by Verneri Pohjola, a Finnish horn player, together with Panu Savolainen on vibraphone, Antti Lötjönen on bass and the percussionist colorist Olavi Louhivuori.
Although jazz is associated with improvisation, Eckemoff often writes her tunes out. Her music has been described as classical chamber music in the context of improvisational jazz. She developed a highly acclaimed jazz style that incorporates her classical technique and influences very effectively. With each new record Eckemoff's distinctive, recognizable approach to melody becomes even more prominent. Yelena Eckemoff uses life and nature's bouquets as her muse to create the body of work that blends post-modern abstraction, classical thought, and jazz language into a seamless whole. True to her classical-jazz impressionism, Eckemoff sees humanity in nature.
A band leader, producer and co-founder of L & H Production record label, Yelena also gives piano lessons. She had served as a church musician and choir director for over 22 years, until she got too busy with her recording and performing schedule. Yelena believes in hard work, God's guidance, humanism, and eternal love.


Booklet für Lions